Guest post by Site Administrator Richard Gould, Pawnee Indian Museum. Richard has a phenomenal knowledge of the history of the Plains Tribes and of this Pawnee site. When you visit don't hesitate to ask Richard any questions you may have. Click this link to visit the Kansas State Historical Society website.

Kansas does not have a Stonehenge, the Great Pyramids, or the Mayan ruins to visit and explore but what Kansas does have for an archeological treasure is the Pawnee Indian Museum State Historic Site located in the north central part of the state near Republic.
The Pawnee Indian Nation was one of the most dominant of the plains tribes and lived in the central plains region for many hundreds of years. They resided in two dramatically different kinds of dwellings; the iconic plains tipi but also the unique earth lodge constructed of a timber framework and covered with earth.
The Pawnee Indian Museum is not only a museum describing the rich history and culture of the Pawnee people but is also an archeological site of a late 1700s earth lodge village that at one time consisted of 40-50 lodges and as many as 2000 members of the Kitkehahki (Republican) band of the Pawnee Nation. Walking the grounds at the site one can still see the remains of 22 lodges, storage pits (Caches), and fortification wall. Seven of the lodge depressions have been excavated and the recovered artifacts removed and most can be seen in the site visitor center.
The most remarkable feature of the site is the excavated floor of one of the largest lodges of the village which can be viewed in the visitor center, in fact the building was constructed before the excavation even took place. All the artifacts and remains uncovered were left in place on the original floor…nothing has been brought in.
Display cases are embedded in the stone walls encircling the floor and visitors can learn more about the Pawnees and their unique way of life.
Most people are familiar with the buffalo hunting and warrior cultures of the plains. The Pawnees are part of that but they were unusual in that their religion was centered on stars and the constellations which was even reflected in the construction of the earth lodge. The site offers an unobstructed view of the surrounding Republican River valley with much of the terrain appearing the same as when the Pawnees called this valley home a little over two hundred years ago.
For more information about the Pawnee
The above earth lodge picture was taken by William Jackson, c. 1871, University of Oklahoma, Western History Collection.
Reproduction of a 300 year old Pawnee Star Chart at the Pawnee Museum site.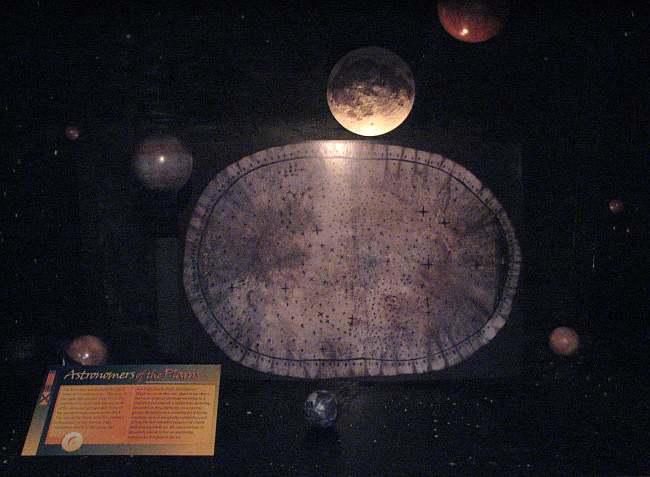 Click to read more about the Pawnee Star Charts, as well as numerous other articles regarding these astrological charts and their use by Native Americans.
Directions for visiting the Pawnee Indian Museum:
Pawnee Indian Museum State Historic Site, Republic, Kansas

9 a.m. – 5 p.m. Wednesday – Saturday
480 Pawnee Trail
Eight miles north of U.S. 36 on K-266
Near Republic KS 66964-9618
785-361-2255
piv@kshs.org